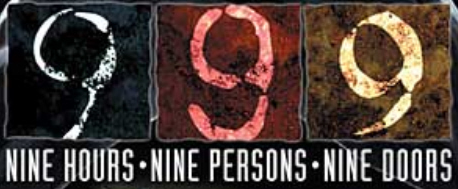 Released On: Nintendo DS
Developed By: Chunsoft
Published By: Aksys Games
Available: Now
MSRP: $35
Note: This review is spoiler-free, but does cover the basic setup of the game.  Also, if you'd like to listen to my audio impressions of the game on episode 171 of TVGP starting around 1:19:00.
As a kid, I loved Choose Your Own Adventure books.  Not only did I love reading, but being able to choose how the story plays out (typically with your own demise, if I remember correctly) was incredibly appealing at that age.  Nine Hours, Nine Persons, Nine Doors (999) takes my love of reading and Choose Your Own Adventure books and turns it into a game on the DS.
The game's basic, non-spoilery story feels a lot like Battle Royale (in a positive way).  You play as Junpei, who, with eight other people who were abducted by the mysterious Zero, must survive and solve the puzzles of the giant ship you're trapped on.  Zero gives you the ultimate goal and promise that if you find a door with a '9' on it, you'll be able to escape the ship.  Unfortunately for the nine people trapped, you have a watch with a number attached to your wrist, which is ultimately a detonator for the bomb in your stomach.
Any story discussions beyond this point would, ultimately, result in me having to spoil 999's amazing story.  It's not only impressive that Chunsoft managed to tie together nine individual stories (each character's backstory is delved into) but even more impressive that Askys was able to translate the virtual mountain of text contained within.  There are a few odd choices in the translation, but nothing that sullies the core story.
Also of particular note is 999 encourages multiple playthroughs; most obviously due to its six different endings.  Additionally, the game remembers what text you read (along with what choices you've made) previously and lets you fast-forward through it if you choose to do so.  999 doesn't allow you to skip puzzles, though, so I recommend writing down the solutions to puzzles in a notebook or something; the solutions will help you breeze through future playthroughs.
Chunsoft managed to create some great puzzles throughout whose difficulty ramps up nicely as you progress further into the game.  Classic adventure games are paid homage, too, with different inventory items resulting in different reactions when used in the environment, along with being able to combine certain items together.  Thankfully, you can control the game via either the touch screen or the buttons (which more DS games need to do), though a few puzzles will require you use the stylus.  The first puzzle in the game (and the intro) is available to demo on Aksys' 999 website.
999 is a simple game in all the best ways.  The story telling is straightforward and high quality, the music is good without being overpowering, the puzzles are difficult without being impossible, and all of the characters are interesting.  There isn't much more to say about the game other than it receives my highest recommendation.  If you own a DS, you must try 999 (especially if you're like me and want to see more visual novels published in the US).  Hopefully you'll be as pleasantly surprised as I was.